Applying epoxy paint for factory floor
Method, process of applying epoxy paint:
Epoxy striping paint is usually constructed according to the method of epoxy oil coating construction with 3 layers including 1 primer and 2 coatings. Conventional strip paint is used for painting the floor of the factory floor, the paint of the sports yard, the car paint, the paint of the arrow or the picture as required ….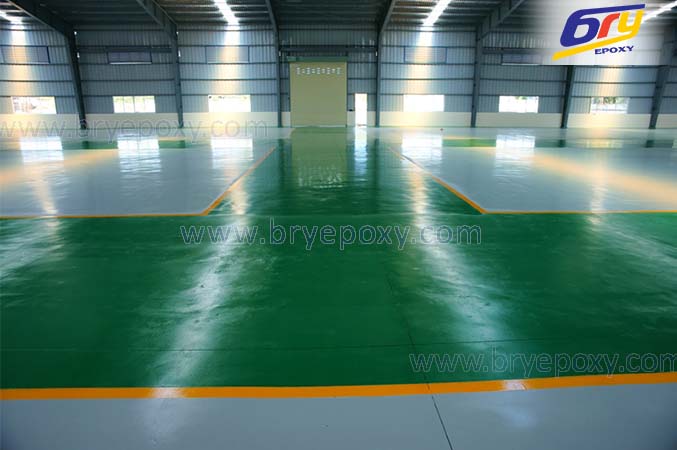 The nature of the epoxy striping paint is that it is applied 3-layer oil-based epoxy coating, however, the specialized paint for thin-line construction only has a few manufacturers, and the construction also needs to be meticulous and approachable. much more kidney.
Some characteristics of advantages and disadvantages of type of epoxy striping paint:
Advantages:




                – Low construction cost
– Highlighting the instruction signals, delineating areas to be divided
– Long life, durable color
– Variety of eye-catching colors, can make decorative epoxy paint
– Difficult to execute, need meticulous, observe the smallest details
– Need a skilled worker to build the road marking is sharp, not smudged, and maximize construction time
– Need to have experience in rolling batches or spraying with epoxy paint to ensure the aesthetics of the painted strip.
Suitable places for use with epoxy paint:
Epoxy striping paint is suitable for construction with most concrete substrates such as factories, basement, paint for factory floor, car paint, showroom, paint for road traffic, commercial center, …
Construction techniques of epoxy paint are required meticulously, and carefully, the construction after construction can get accuracy, and ensure the right effect when looking at the painted area, people will know the stool The obvious way is that the clear paint painted its specified capital.
You need to consult the construction of epoxy paint, please contact here for free advice.
Updating...